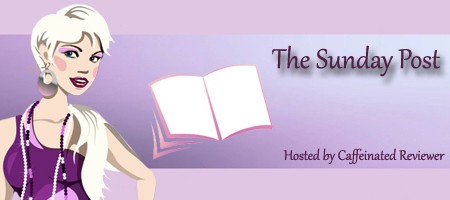 The Sunday Post #28 – Weekly Wrap-up
Welcome to my Sunday Post. Thank you to Kimba over at The Caffeinated Reviewer, who is hosting this weekly event. It is the perfect opportunity to share what happened here on my own blog, as well as some of the happenings elsewhere in the Blogosphere.
This week spring suddenly appeared full force! Unfortunately, that means my pollen allergies are getting really strong… however, it also means my garden looks really beautiful, with everything starting to bloom, from the cherry trees to the strawberry bushes to the roses. Here's a picture of the cherry tree, which we planted a few years ago. I can't wait for it to actually bear cherries once more 🙂
This week's posts:
This week's reviews:
Elsewhere in the Blogosphere:
Jennifer @ The Book Nympho is discussing When TV and Reading go hand in hand.
Berls @ Fantasy is More Fun has a 2015 1st quarter Book of the Year post up.
Rashika @ The Social Potato wonders why Fantasy is so White and Straight.
Lily @ Lily's Book Blog explains why She won't stop Posting Pictures of her ARCs.
What have you been up to this past week? Don't forget to leave me a link so I can come visit your Sunday Post as well.
Thanks for stopping by, I hope you've enjoyed your weekend, and that next week will be filled with awesome!