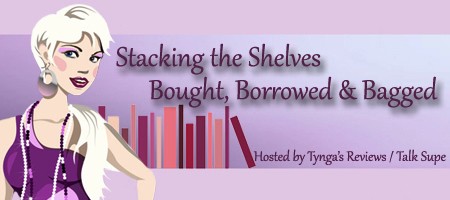 STS #80 – Bought Borrowed & Bagged #30
Stacking The Shelves, hosted by Tynga's Reviews is all about the latest additions to your library – virtual or actual, with books that are  bought, borrowed, won or ARCs  you will be reading soon. BB&B is a homage to to Barron's Books and Baubles from Karen Marie Moning's amazing Fever series, and is hosted by Braine over at Talk Supe.
Netgalley ARCs:
Forever Grace (Ever After #2) – Linda Poitevin
When injured police officer Sean McKittrick heads to his cottage, he's planning on some much needed rest and recuperation. But the idyllic peace he expected to find is shattered by…children?
It's not that Sean dislikes kids, he just isn't interested in having any of his own. Or in settling down, for that matter. Ever. Unfortunately, the woman in charge of his young neighbors has an unsettling way of making him forget why.
Grace Daniels is attractive, single, and despite her brave face, overwhelmed by the responsibility of caring for three nieces and a nephew. When she helps Sean out of a jam, he feels obliged to return the favor, but he soon realizes there's more to this cobbled-together little family than meets the eye. Grace is hiding something, a secret that piques Sean's cop suspicions—and stirs his protective instincts.
As Sean digs for the truth, however, the line between professional curiosity and personal interest becomes increasingly blurred. A family might not be quite what he had in mind for his future, but he's beginning to wonder if he can live without this one…or if he wants to.
 The Woman in the Movie Star Dress – Praveen Asthana
A young woman comes to Hollywood to escape her past. She finds work in a vintage clothing store that sells clothes used in the movies. One day she discovers a way to transfer human character through these vintage clothes, and she uses this ability to transform from a lonely, insecure young woman to a glamorous heartbreaker. But she also discovers that with the good comes the bad as character flaws are transferred too. She begins to worry: what if one of the vintage clothes she has sold to some unsuspecting customer had been previously worn by a deeply troubled soul? One day her fears become crystallized—intrigued by a man who comes asking about a beautiful scarlet dress she has recently sold, she looks into its history and discovers a secret that terrifies her. So begins a quest to find the scarlet dress complicated by a budding romance and the threads of her past, which intervene like trip wires. Emotions run high, and in the background the quickening drumbeat of the race to find the scarlet dress, potent as a loose, loaded weapon.
Once and Again (Return to Briarwood #1) – Elisabeth Barrett
Growing up in Eastbridge, Connecticut, Carolyn Rivington was a young debutante who did whatever her parents asked. So when her father demanded that she break things off with the boy from the wrong side of the tracks or else, she did. Now Carolyn's family is deep in debt. She's no longer a member of the Briarwood Golf and Yacht Club, she's an employee. And the tanned, tattooed, dangerously handsome stranger who saunters into her lobby isn't just her new boss . . . he's also her first love.
The last time he saw Carolyn, Jake Gaffney was in the back of a police cruiser, handcuffed and humiliated. But seeing her again stirs other memories: a blanket on the beach, the moon above their heads, and the most expensive bottle of wine he could afford. Now the tables have turned. As a real-estate magnate and Briarwood's new owner, Jake doesn't have to answer to anyone. But now that he's back home, he's finding it hard to live down his old reputation.
Before they can move forward, Jake and Carolyn must face their pasts. But it'll take more than sizzling chemistry for them to heal old wounds and return to the love they once shared.
Rogue (Talon #2) – Julie Kagawa
Ember Hill left the dragon organization Talon to take her chances with rebel dragon Cobalt and his crew of rogues. But Ember can't forget the sacrifice made for her by the human boy who could have killed her—Garret Xavier Sebastian, a soldier of the dragonslaying Order of St. George, the boy who saved her from a Talon assassin, knowing that by doing so, he'd signed his own death warrant.
Determined to save Garret from execution, Ember must convince Cobalt to help her break into the Order's headquarters. With assassins after them and Ember's own brother helping Talon with the hunt, the rogues find an unexpected ally in Garret and a new perspective on the underground battle between Talon and St. George.
A reckoning is brewing and the secrets hidden by both sides are shocking and deadly. Soon Ember must decide: Should she retreat to fight another day…or start an all-out war?
Edelweiss ARCs:
The Winter Girl – Matt Marinovich
It's wintertime in the Hamptons, where Scott and his wife, Elise, have come to be with her terminally ill father, Victor, to await the inevitable. As weeks turn to months, their daily routine—Elise at the hospital with her father, Scott pretending to work and drinking Victor's booze—only highlights their growing resentment and dissatisfaction with the usual litany of unhappy marriages: work, love, passion, each other. But then Scott notices something simple, even innocuous. Every night at precisely eleven, the lights in the neighbor's bedroom turn off. It's clearly a timer…but in the dead of winter with no one else around, there's something about that light he can't let go of. So one day while Elise is at the hospital, he breaks in. And he feels a jolt of excitement he hasn't felt in a long time. Soon, it's not hard to enlist his wife as a partner in crime and see if they can't restart the passion.
Their one simple transgression quickly sends husband and wife down a deliriously wicked spiral of bad decisions, infidelities, escalating violence, and absolutely shocking revelations.
Matt Marinovich makes a strong statement with this novel. The Winter Girl is the psychological thriller done to absolute perfection.
ARC from author:
Meet me in the Dark – J.A. Huss
He's empty, inhuman, dishonest, and cruel.
She's never wanted anyone more.
Sydney has lived in fear for eight years after freelance assassin, Merc, failed to rescue her from a cult-like militia group. Left in the hands of a sadistic man, she did whatever it took to survive. But Merc's last words gave her hope. Hope he'd be back to finish the job.
Merc knows just what to do with a fearful girl like Sydney after he was betrayed by her father that night. He wields sex, drugs, lies, and love like weapons—and Sydney is his target.
He's in control. He's always in control. But Sydney Channing is not what she appears. And Merc's only redeeming act, the very one that made Sydney's life a living hell, might just be his worst mistake yet.
Kindle Freebies:
The Night Series Collection – R.S. Black
Welcome one and all to Carnival Diabolique- or what I affectionately like to call, the carnival of the damned. My name is Pandora, and though my face might not look familiar to you, you do know me. I'm a Nephilim. What does that mean? I'm half demon, what's my other name? Lust. I'm the dark craving that drives you mad, makes you want, makes you reckless and stupid. I'm the drug you'll do anything to get your hands on. But I'm not all bad. I fight for light, for goodness and truth. I love my job, killing vampires and werewolves, zombies, and freaks… it's what makes me happy. But people are starting to disappear and lately I've felt a dark presence lurking around me. I think it might be a death priest and that's really bad. There isn't much a demon like me fears, but I fear them. This should have been easy, me killing the fanged freaks, getting rid of my pesky priest problem, but I'm about to be betrayed by the one person I thought I could trust with my life and before the night is through I'll be covered in crimson…

All Hallows Night:
Secrets and truths, lies and red herrings… which is which? That's what Pandora's trying to figure out. Ever since the death of her best, and probably only friend by her own hands, she's not sure who to trust anymore. The Priest is dead. The Gray Man is… she's not even sure what. Luc, well, Luc is Luc.
The Order has sent her deep into the heart of Mexico to investigate a potential zombie uprising. She arrives at the start of the Dia de los Muertos festival—a celebration for the dead and immediately things don't feel right to her. For one, bodies (the living kind) keep disappearing. They're not being kidnapped, no, if only things were that simple. Literally there one second, gone the next, she's not sure what to make of it. On top of that mum's are floating all over the place. Is that merely symbolism associated with the festival, or is it a clue of something far more sinister?
Did you get some exciting-looking books this week? Remember to leave me your link so I can check out your Stacking the Shelves and or Bought, Borrowed and Bagged post, too 🙂 Thanks for stopping by! Have a spectacular Saturday.