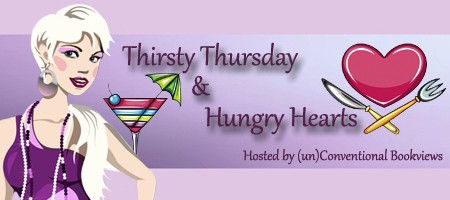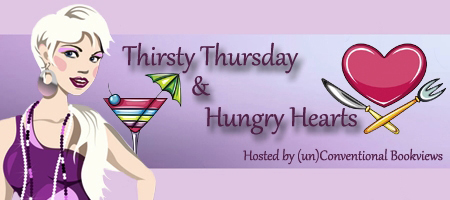 Thirsty Thursday and Hungry Hearts #12
Welcome to Thirsty Thursday and Hungry Hearts, an original weekly meme hosted here at (un)Conventional Bookviews. So many of the books I read have food or drinks in them, some I'd love to try, and others I'd never ever want to taste… and I thought it could be interesting and fun to share some food and / or drink quotes…  If you want to participate, you can grab my logo if you'd like, or you can make your own, but please link back to me in your own post.
The idea of Thirsty Thursday and Hungry Hearts is to share a quote with food or drinks that showed up in a recent read, as well as if it's something you think you'd like or not. Please share the title of the book it happened in, as well as the character who ate or drank the special little something you discovered between the pages of a good read. Please link up beneath, and visit other bloggers who are participating in Thirsty Thursday and Hungry Hearts as well.
This week, my Thirsty Thursday and Hungry Hearts quote is from Talon by Julie Kagawa. I just finished reading it, and I really enjoyed it – even if there are still a lot of things that I want to know about that universe, in which dragons exist alongside humans.
I looked up from where I was poking halfheartedly at my boiled lobster. As a whole, I didn't like seafood. Dragons were carnivores; seventy percent of our diet had to consist of meat, and Sarah made sure we were fed appropriately, but in my opinion, lobsters weren't food. They were big bugs that lived underwater, and ugly ones at that.
Thanks for stopping by today! I look forward to seeing your food or drink quote, too. Have a terrific Thursday and happy reading.