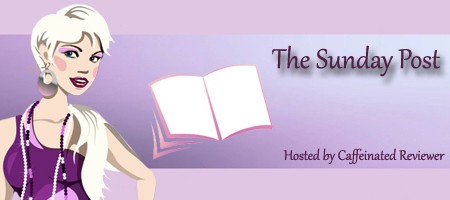 The Sunday Post #74 – Weekly Wrap-up
Welcome to my Sunday Post. Thank you to Kimba over at The Caffeinated Reviewer, who is hosting this weekly event. It is the perfect opportunity to share what happened here on my own blog, as well as some of the happenings elsewhere in the Blogosphere.
In 59 days, BEA will start in Chicago, and for the first time, I'll be participating as well! I think I'm just as excited to meet my blogger friends in person as I am about meeting authors, because hanging out in real life and chat about books, and just get to know each other even better is awesome! I am also hosting one of the roundtable discussions at the BloggerCon, I will talk about how to balance a busy personal life with blogging. If you are going to BEA as well, it would be fun to meet in person, so please let me know!
I had a lot of trouble with my e-mail subscription plugin this past week, and ended up having to delete it – so if you normally follow me by e-mail and haven't received any e-mails since Wednesday, this is why. I have gone back to the WordPress e-mail subscription, so if you're still interested, you can sign back up 😉
Nick @ Nick and Neyreda's Infinite Booklist discusses Teenage Nick and Sex in YA.
Micheline @ Lunar Rainbows wonders Do You Get Stuck in Your Genre, or Are You a Fan of Variety?
What have you been up to this past week? Don't forget to leave me a link so I can come visit your Sunday Post as well.
Thanks for stopping by, I hope you've enjoyed your weekend, and that next week will be filled with awesome!