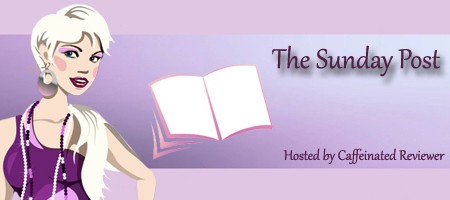 The Sunday Post #18 – Weekly Wrap-up
Welcome to my weekly wrap-up post. Thank you to Kimba over at The Caffeinated Reviewer, who is hosting this weekly event. It is the perfect opportunity to share what happened here on my own blog, as well as some of the happenings elsewhere in the Blogosphere.
My week has been extremely busy, as it was my first full week of teaching, and I had an oral exam on Tuesday morning before I had to run to teach my own class… I've been writing lesson plans, discussion questions about the novel my class is reading and preparing to teach them how to write an academic essay. Since their first (or second in some cases) language is French, essay-writing is not the same. It's very interesting to show them the ropes, though, and they are all very motivated and ready to learn more.
I have also started to get ready for my new semester at Uni, next week is the winter vacation here, and afterwards, both teaching and learning is back on the menu. Next week, we're going to Spain for a few days to furnish our new holiday apartment on the Costa Brava so that the next time we have time off we can just go and chill 🙂
This week's posts:
This week's reviews:
Elsewhere in the Blogosphere:
Stormi @ Books, Movies, Reviews! Oh My! and Berls @ Fantasy Is More Fun have a great feature for February… Go check out their Murder at the Reinhart, where they have co-written the introduction to a cozy mystery and several authors have written the rest – using their characters from prior stories as the sleuths who have to figure out who the killer is!
Larissa @ YA Midnight Reads has an awesome discussion post about The Perfect Body.
Michelle @ Because Reading has a great Life of a Blogger post about Superpowers.
Carmel @ Rabid Reads has a discussion about Peeking at the End…
and Brandee @ Bookworm Brandee shares her buys days in her post Stay at Home Mom?
What have you been up to this past week? Don't forget to leave me a link so I can come visit your Sunday Post as well.
Thanks for stopping by, I hope you've enjoyed your weekend, and that next week will be filled with awesome!