Bought, Bagged and Wrapping it Up is where I share my new books, as well as what happened here at (un)Conventional Bookviews and elsewhere in the blogoshpere. I'm linking up with the usual suspects, AKA Team Tynga's Reviews, Talk Supe and Caffeinated Reviewer.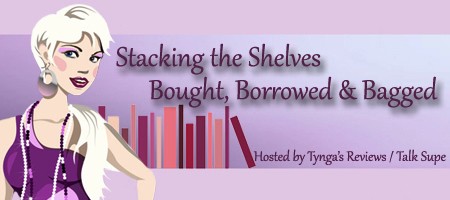 STS # – Bought Borrowed & Bagged #
Stacking The Shelves, hosted by Tynga's Reviews is all about the latest additions to your library – virtual or actual, with books that are  bought, borrowed, won or ARCs  you will be reading soon. Bought Borrowed and Bagged is a homage to to Barron's Books and Baubles from KMM' Fever series, and is hosted by Braine over at Talk Supe. Without further ado, here's what I bought, borrowed or bagged this past week:
Thank you, Loveswept and Netgalley!
Thank you, Pocket Books and Edelweiss!
I had both of these on pre-order because I love both authors, and the series are great, too!
And I got another The Bookwormbox in the mail this week, too! It still feels like Christmas in the middle of summer 🙂 And the thing I find so awesome with The Bookworm Box is that it's also about giving it back or paying it forward! The proceeds from this box go to charity, and that is something I can definitely stand behind.
I love that there is both some cool swag and amazing-looking books! Aren't those covers beautiful? And can you believe I haven't read any Pepper Winters books yet? Here are the links to the books: The Perfect Life and Unseen Messages.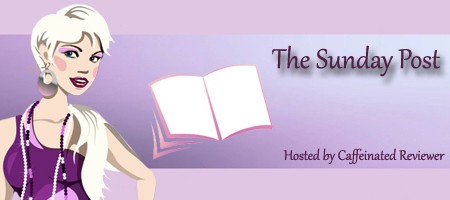 The Sunday Post # – Wrapping it Up
Kim @ The Caffeinated Reviewer, is our hostess with the mostest for the weekly Sunday Post where I'm wrapping things up. It is the perfect opportunity to share what happened here on my own blog, as well as some of the happenings elsewhere in the Blogosphere.
It's been hot and humid this past week, we had two thunderstorms, but it was still as hot just after it stopped raining. I got a beautiful photo of a double rainbow, though 🙂 We're changing some bathroom furniture and our sink, and it feels like the whole bathroom is new – such a nice feeling 🙂
This Week's Freddy in Action:
Nicole @ Feed Your Fiction Addiction discusses Violence vs Sex in YA.
Grace @ Rebel Mommy Book Blog chats about 5 Things that Affects Her Ratings.
Val @ The Innocent Smiley wonders Do We Favor Attractive Characters?
Did you get some good books last week? What have you been up to this past week? Thanks for stopping by, I hope you've enjoyed your weekend, and that next week will be filled with awesome!