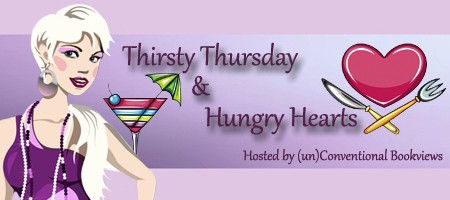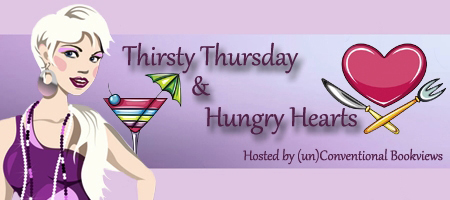 Thirsty Thursday and Hungry Hearts #126
Welcome to Thirsty Thursday and Hungry Hearts, an original weekly meme hosted here at (un)Conventional Bookviews. So many of the books I read have food or drinks in them, some I'd love to try, and others I'd never ever want to taste… and I thought it could be interesting and fun to share some food and / or drink quotes…  If you want to participate, you can grab my logo if you'd like, or you can make your own, but please link back to me in your own post.
The idea of Thirsty Thursday and Hungry Hearts is to share a quote with food or drinks that showed up in a recent read, as well as if it's something you think you'd like or not. Please share the title of the book it happened in, as well as the character who ate or drank the special little something you discovered between the pages of a good read. Please link up beneath, and visit other bloggers who are participating in Thirsty Thursday and Hungry Hearts as well.
This week, my Thirsty Thursday and Hungry Hearts quote is from Holding Out for a Hero by Codi Gary, it's from about the middle of the story, where Blake and Hannah are supposed to have their first date… And Blake's clothes got wet – by Hannah's dog peeing on him 😀
"I fucking love this dress." He brushed his mouth against the mound of her breast, and she gasped.
"Maybe we should skip going out to dinner and just order a pizza," she whispered.
Blake took a deep breath, trying to get ahold of himself as he brought his mouth back up to hers.
"No, I promised you a real date, and we will have one. It will just be a little later.
"I might have something you can war.
Blake arched a brow at her.
"One of my dad's T-shirts. Hang on."
[…]
She grabbed two Cokes from the kitchen and let Milo out of his cage, shooting him a dirty look. "Be nice."
He gave her those soft, innocent brown eyes, and she melted.
When she came back to the living room, Blake was looking over her bookshelf, his back to her.
"I hope Coke is okay."
He turned, and she bit her lip to keep from laughing at the large picture of a Pomeranian on the front of the shirt and the words I love my pom-pom underneath.
Thanks for stopping by today, I look forward to reading your Thirsty Thursday and Hungry Hearts quote. Have a terrific Thursday and don't forget to link up.