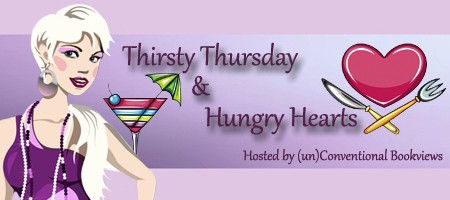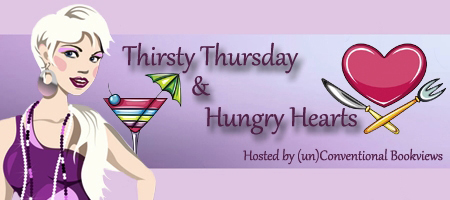 Thirsty Thursday and Hungry Hearts #133
Welcome to Thirsty Thursday and Hungry Hearts, an original weekly meme hosted here at (un)Conventional Bookviews. So many of the books I read have food or drinks in them, some I'd love to try, and others I'd never ever want to taste… and I thought it could be interesting and fun to share some food and / or drink quotes…  If you want to participate, you can grab my logo if you'd like, or you can make your own, but please link back to me in your own post.
The idea of Thirsty Thursday and Hungry Hearts is to share a quote with food or drinks that showed up in a recent read, as well as if it's something you think you'd like or not. Please share the title of the book it happened in, as well as the character who ate or drank the special little something you discovered between the pages of a good read. Please link up beneath, and visit other bloggers who are participating in Thirsty Thursday and Hungry Hearts as well.
This week, my Hungry Hearts quote is from The Bone Witch. While I didn't fully love the story, it definitely intrigued me, and at one point, I'll pick up the second book in the series for sure.
My Hungry Hearts quote:
I returned home for lunch, the heaviest meal fo the day. The Valerian had no cooks, and so a nearby restaurant prepared food catered to our tastes. A typical fare may include a savory eggplant and tomato stew they call the bademjan or slices of grilled lamb and beef garnished with onions, lemon juice and saffron or pomegranate-walnut soup. They were almost always accompanied by rice – sour-lim biryani one day perhaps fried basmati tahdig or jeweled rice at another – served with nuts and an herb salad. Asha and apprentices do not normally eat large suppers – they believe the feeling of fullness that comes after makes on languid and unable to entertain visitors in their best capacity.
Hungry Hearts link-up:
Thanks for stopping by today, I look forward to reading your Thirsty Thursday and Hungry Hearts quote. Have a terrific Thursday and don't forget to link up.