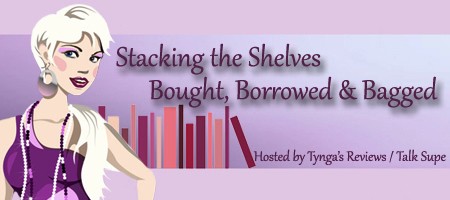 Stacking The Shelves #113 – BB&B #63
Stacking The Shelves, hosted by Tynga's Reviews is all about the latest additions to your library – virtual or actual, with books that are  bought, borrowed, won or ARCs  you will be reading soon. BB&B is a homage to to Barron's Books and Baubles from Karen Marie Moning's amazing Fever series, and is hosted by Braine over at Talk Supe.
Netgalley ARCs:
Firstlife by Gena Showalter – thank you, Harlequin TEEN!
ONE CHOICE.
TWO REALMS.
NO SECOND CHANCE.
Tenley "Ten" Lockwood is an average seventeen-year-old girl…who has spent the past thirteen months locked inside the Prynne Asylum. The reason? Not her obsession with numbers, but her refusal to let her parents choose where she'll live—after she dies.
There is an eternal truth most of the world has come to accept: Firstlife is merely a dress rehearsal, and real life begins after death.
In the Everlife, two realms are in power: Troika and Myriad, longtime enemies and deadly rivals. Both will do anything to recruit Ten, including sending their top Laborers to lure her to their side. Soon, Ten finds herself on the run, caught in a wild tug-of-war between the two realms who will do anything to win the right to her soul. Who can she trust? And what if the realm she's drawn to isn't home to the boy she's falling for? She just has to stay alive long enough to make a decision…
The Year We Turned Forty by Liz Fenton & Lisa Steinke – thank you, Atria Books!
If you could repeat one year of your life, what would you do differently? This heartwarming and hilarious novel from the authors of The Status of All Things and Your Perfect Life features three best friends who get the chance to return to the year they turned forty—the year that altered all of their lives, in ways big and small—and also get the opportunity to change their future.
Jessie loves her son Lucas more than anything, but it tears her up inside that he was conceived in an affair that ended her marriage to a man she still loves, a man who just told her he's getting remarried. This time around, she's determined to bury the secret of Lucas' paternity, and to repair the fissures that sent her wandering the first time.
Gabriela regrets that she wasted her most fertile years in hot pursuit of a publishing career. Yes, she's one of the biggest authors in the world, but maybe what she really wanted to create was a family. With a chance to do it again, she's focused on convincing her husband, Colin, to give her the baby she desires.
Claire is the only one who has made peace with her past: her twenty-two year old daughter, Emily, is finally on track after the turmoil of adolescence, and she's recently gotten engaged, with the two carat diamond on her finger to prove it. But if she's being honest, Claire still fantasizes about her own missed opportunities: a chance to bond with her mother before it was too late, and the possibility of preventing her daughter from years of anguish. Plus, there's the man who got away—the man who may have been her one true love.
But it doesn't take long for all three women to learn that re-living a life and making different decisions only leads to new problems and consequences—and that the mistakes they made may, in fact, have been the best choices of all…
The Fractured Heart by Scarlett Cole – Thank you St. Martin's Paperbacks!
All things, when placed under pressure, eventually break or leave a mark.
Tattoo artist Brody "Cujo" Matthews knows how to keep things simple. In life and in love. Abandoned as a child by a mother who refused to stick around to raise three boys she didn't want, he's intent on staying clear of complicated women. The only things complicated in Cujo's life are the killer tattoos he designs and inks. That all changes when he's asked to help organize his best friend Trent's engagement party, which means working with Trent's fiancée's best friend, Drea, the definition of high maintenance and sizzling curves. And the one woman he doesn't want to walk away from.
Andrea "Drea" Caron is broke and tired. After years of caring for her ailing mom, she's at the end of her rope trying to manage the piling medical bills, two jobs, and a life placed on hold. She certainly doesn't need the added frustration of a sexy playboy tattoo artist messing up her best friend's engagement party or her carefully balanced life. But when Drea witnesses the abduction of a woman from the café she works at, she can't help but turn to Cujo who's determined to prove to Drea that he's someone she can count on forever…but as they attempt to bring the truth to light, someone is working to bring that forever to a sudden, deadly halt.
Audio ARCs – thank you, Tantor Media!
Charming by Dannika Dark, narrated by Nicole Poole
After seven hundred years, Prince has acquired everything a Packmaster could desire. But when he meets the enchanting Nadia Kozlov, he realizes that there's one thing he doesn't have: answers. Prince owes his life to a man he hasn't seen in centuries, and Nadia holds the key to his whereabouts, because that man is her father.
Destinies collide when Nadia's sister shows up unexpectedly. Katarina is a skilled bounty hunter, hot on the trail of a nefarious outlaw who turns out to be Prince's old nemesis. Prince teams up with Nadia's sister to track down the Mage, but the real game of cat and mouse is already underway as sparks fly between Prince and the cunning bounty hunter. The only trouble is, Nadia wants him too.
Kindle Purchase:
Heartbreaker's Bet by Donna Cummings
I need someone to help me become a heartbreaker. And I've picked you.
Bettina Knox's dating life was a disaster. What she needed was some expert instruction on becoming the love-'em-and-leave-'em type. Luckily she found the perfect man for the job – a professional-grade flirter, adored by every woman he encountered. It was all fun and games, until she started falling for her way-too-sexy teacher.
So you want me to give you all my secrets for breaking hearts. Even though I'm not convinced I've ever broken any.
Troy Callahan thought he'd heard it all in his years of owning a popular sports pub. Then this sweet, sassy woman waltzed up insisting he was going to teach her how to break hearts. He'd been a wingman forever, so why not help her unleash her inner bad girl? There was just one problem: turning Bet into a heartbreaking assassin had somehow put his own heart at risk.
Magic Stars by Ilona Andrews
Scarred, solitary Derek Gaunt has separated from his Pack, and is truly a lone wolf. With no family he answers to no one; but is fiercely loyal to a chosen few. So, when several of those close to him are murdered, he'll stop at nothing to hunt their killer through the magic-drenched streets of Atlanta.
Never one to be left on the sidelines, equally determined—some might say stubborn—Julie Lennart-Olsen soon joins in his pursuit; and what began as revenge turns into a race to save the city. Their search pits them against powers they never imagined and magic so old, it predates history. It may cost Derek his life, but there are things for which even he would risk everything.
Giveaway Wins:
Yet another beautiful paperback that was sent to me after I won Lori Foster's Thankful Thursday a few weeks ago. Thank you, Marie Force for sending Virtuous to me!
Virtuous by M. S. Force
He's a sexual dominant. She's sworn off sex. There's no way they can make a relationship work—or can they?
After surviving a traumatic event at age fifteen and the ensuing estrangement from her family, Natalie Bryant has worked for years to reinvent herself into the woman she is today—a happy teacher fresh out of college and enjoying her first winter in New York City with her faithful dog, Fluff, by her side. Natalie isn't expecting her life to change completely during a routine stroll through Greenwich Village on a blustery January day. But when Fluff breaks loose and charges into a park, Natalie gives chase and crashes into her destiny. Only after Fluff bites and draws blood from the man who accidentally knocked Natalie down does she realize Fluff has bitten the biggest movie star in the world.
He has no business being enthralled by the gorgeous, young, innocent teacher…
Natalie captivates Flynn Godfrey from the first moment their eyes meet while she is lying on the ground and he's fighting off her ferocious little beast of a dog. The only thing Flynn knows for certain is if he lets Natalie get away, he'll regret it for the rest of his life. After only a short time in her presence, Flynn is prepared to change who he is to be what she needs. He knows he's in big trouble when she says she won't sleep with him and he doesn't care if it means he gets to keep her in his life. But can he turn his back on the lifestyle that has defined him? Can he deny the desires that drive him to give Natalie the introduction to love and romance she so deserves? And most of all, can he keep his truth hidden from her long enough to have forever with her?
I also won a paperback of Jana Aston's Wrong, and it arrived yesterday 🙂 She always uses pink envelopes, so when I saw that a pink envelope was waiting for me, I got really excited.
Did you get some exciting-looking books this week? Remember to leave me your link so I can check out your Stacking the Shelves and or Bought, Borrowed and Bagged post, too 🙂 Thanks for stopping by! Have a spectacular Saturday.