Bought, Bagged and Wrapping it Up is where I share my new books, as well as what happened here at (un)Conventional Bookviews and elsewhere in the blogoshpere. I'm linking up with the usual suspects, AKA Team Tynga's Reviews, Talk Supe and Caffeinated Reviewer.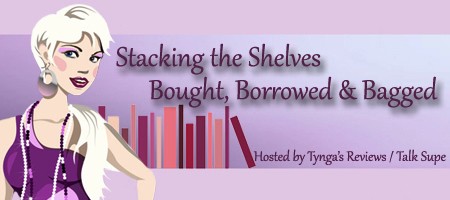 STS #139 – Bought Borrowed & Bagged #89
Stacking The Shelves, hosted by Tynga's Reviews is all about the latest additions to your library – virtual or actual, with books that are  bought, borrowed, won or ARCs  you will be reading soon. Bought Borrowed and Bagged is a homage to to Barron's Books and Baubles from KMM' Fever series, and is hosted by Braine over at Talk Supe. Without further ado, here's what I bought, borrowed or bagged this past week:
Thank you so much, Carina Press! I love getting surprise e-mails from you 🙂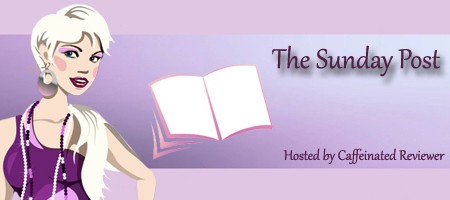 The Sunday Post #89 – Wrapping it Up
Kim @ The Caffeinated Reviewer, is our hostess with the mostest for the weekly Sunday Post where I'm wrapping things up. It is the perfect opportunity to share what happened here on my own blog, as well as some of the happenings elsewhere in the Blogosphere.
Today, we're celebrating my oldest daughter's high school graduation! It's going to be an emotional day, I'm sure – because it's a way to show that she has excelled in one part of her life, and she will start something new and different from now on. She is going to work full time starting at the end of August, and she's really happy about not going straight to more studies – she's quite sick of it for now.
On Monday, two of the kids, Mr. Freddy and I are driving down to our vacation place in Spain, and I'm going to spend the whole summer there, until about one week before school starts back up at the very end of August. I can't wait to get the change of scenery, be close to the sea, and also visit with my sister and her two children who are joining us for two weeks.
This week's Freddy pics :
Aria @ Aria Stuck in Wonderland shared How She Rates Her Books.
Nicole @ Feed Your Fiction Addiction chats about Celibacy Shaming.
Did you get some good books last week? What have you been up to this past week? Thanks for stopping by, I hope you've enjoyed your weekend, and that next week will be filled with awesome!