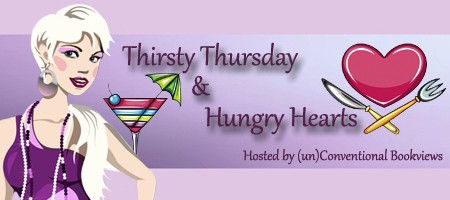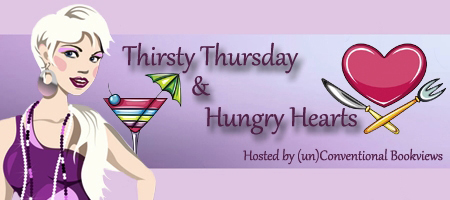 Thirsty Thursday and Hungry Hearts #72
Welcome to Thirsty Thursday and Hungry Hearts, an original weekly meme hosted here at (un)Conventional Bookviews. So many of the books I read have food or drinks in them, some I'd love to try, and others I'd never ever want to taste… and I thought it could be interesting and fun to share some food and / or drink quotes…  If you want to participate, you can grab my logo if you'd like, or you can make your own, but please link back to me in your own post.
The idea of Thirsty Thursday and Hungry Hearts is to share a quote with food or drinks that showed up in a recent read, as well as if it's something you think you'd like or not. Please share the title of the book it happened in, as well as the character who ate or drank the special little something you discovered between the pages of a good read. Please link up beneath, and visit other bloggers who are participating in Thirsty Thursday and Hungry Hearts as well.
Today, I'm sharing a Thirsty Thursday quote with you, from my recent read The Bourbon Thief by Tiffany Reisz. Of course, one of the subjects of that story being bourbon, it wasn't all that hard to find a quote to use today 😉
My Thirsty Thursday quote:
"Four Roses, neat. Double pour."
"A lady who knows her bourbon and isn't afraid to drink it straight." McQueen turned ten degrees on his bar stool toward hr. "A woman after my own heart."
"I'm a Kentucky girl," she said with a graceful shrug. "And bourbon's like the truth, you know."
"How's that?"
"The first taste burns, but once you get used to it, it's the only thing you want in your mouth. 

Thanks for stopping by today, I look forward to reading your Thirsty Thursday and Hungry Hearts quote. Have a terrific Thursday and don't forget to link up.