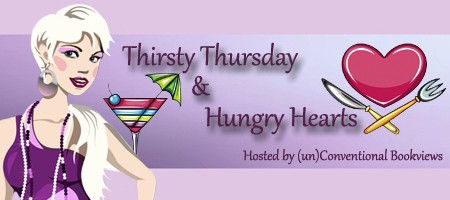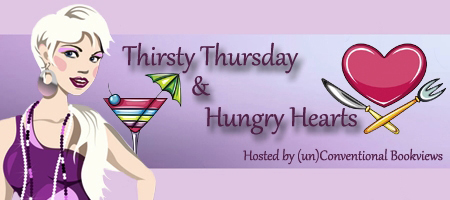 Thirsty Thursday and Hungry Hearts #124
Welcome to Thirsty Thursday and Hungry Hearts, an original weekly meme hosted here at (un)Conventional Bookviews. So many of the books I read have food or drinks in them, some I'd love to try, and others I'd never ever want to taste… and I thought it could be interesting and fun to share some food and / or drink quotes…  If you want to participate, you can grab my logo if you'd like, or you can make your own, but please link back to me in your own post.
The idea of Thirsty Thursday and Hungry Hearts is to share a quote with food or drinks that showed up in a recent read, as well as if it's something you think you'd like or not. Please share the title of the book it happened in, as well as the character who ate or drank the special little something you discovered between the pages of a good read. Please link up beneath, and visit other bloggers who are participating in Thirsty Thursday and Hungry Hearts as well.
My Thirsty Thursday quote for this week is from Bossed by Sloane Howell. It's from the beginning of the story, Jenny is stressed out and almost late for a job interview…
I rounded a corner and a park came into view across the street. In front of the park sat a mobile coffee cart, just off the main thoroughfare at the edge of the sidewalk. Thank God. The strong aroma from the roasted beans cut through the bevy of exhaust fumes and blaring horns sounding all around me.
A cab approached, seemingly out of nowhere, and slammed on its brakes as I attempted to cross the street. I skidded on the heels I hadn't worn in over a year, teetering for balance as my hands shot up in defense. "Sorry"
I cringed at the string of expletives hurled by the cabbie as I gathered my wits and continued toward the heavenly scent coming from the tree-lined sidewalk just half a block down.
Thanks for stopping by today, I look forward to reading your Thirsty Thursday and Hungry Hearts quote. Have a terrific Thursday and don't forget to link up.