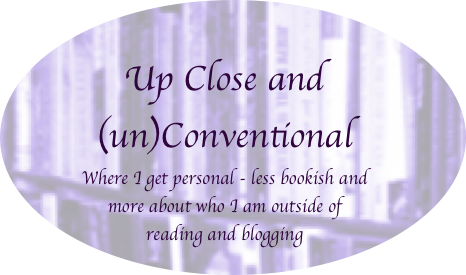 Up Close and (un)Conventional #16
Welcome my Up Close and (un)Conventional, this is where I discuss both things that have to do with reading and blogging, and things that just have to do with life in general. This week, I'm wondering a bit about epilogues. I personally, feel like epilogues can be pretty good, but more often than not, I actually think a story can do even better without one.
Epilogues are often set after the end of a story, as a way to bring it, the characters, and even the readers complete closure. I appreciate the feeling behind an epilogue, for sure, a little something to soothe me after a favorite series has ended, for example. However, I find that epilogues bring something cheesy to a story that I don't enjoy as much as I could. As an example, I'll use one of my all time favorite urban fantasy series, The Hollows. I was lucky enough to receive and ARC of The Witch with no Name, and I loved it! Absolutely and completely loved it. The epilogue was not in the ARC, however, so on release day, I promptly bought my own copy of the book, because yeah, I'm curious. I could have done without the epilogue completely, in this case, though. Yes, it showed the future of my favorite kick-ass heroine, but it wasn't at all necessary. The story was complete in my mind when I read the last line of my ARC. The only epilogues I hunger for are those in JA Huss books… because they show a glimpse of something that may still come.
I actually can't think of a single time where I thought the epilogue actually brought me something fantastic that was needed in order to finish off a story or series perfectly. If you have any good examples of epilogues, please let me know!
What do you think? Are epilogues necessary? Sometimes, maybe?
Thanks for stopping by today 🙂 Happy reading!