Teaser Tuesday is a weekly bookish meme, hosted by MizB of Should Be Reading. Anyone can play along! Just do the following:
Grab your current read
Open to a random page
Share two (2) "teaser" sentences from somewhere on that page
BE CAREFUL NOT TO INCLUDE SPOILERS! (make sure that what you share doesn't give too much away! You don't want to ruin the book for others!)
Share the title and author, too, so that other Teaser Tuesday participants can add the book to their TBR Lists if they like your teasers.
Teaser Tuesday #40 – The Body Electric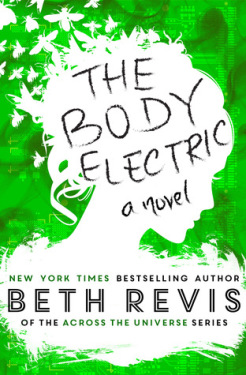 The Body Electric – Beth Reves
The future world is at peace.
Ella Shepherd has dedicated her life to using her unique gift–the ability to enter people's dreams and memories using technology developed by her mother–to help others relive their happy memories.
But not all is at it seems.
Ella starts seeing impossible things–images of her dead father, warnings of who she cannot trust. Her government recruits her to spy on a rebel group, using her ability to experience–and influence–the memories of traitors. But the leader of the rebels claims they used to be in love–even though Ella's never met him before in her life. Which can only mean one thing…
Someone's altered her memory.
Ella's gift is enough to overthrow a corrupt government or crush a growing rebel group. She is the key to stopping a war she didn't even know was happening. But if someone else has been inside Ella's head, she cannot trust her own memories, thoughts, or feelings.
So who can she trust?
My Body Electric teasers:
[dropshadowbox align="none" effect="lifted-both" width="350px" height="" background_color="#e0c0d7″ border_width="1″ border_color="#674ea7″ ]But none of this is real. "It's real!" I shout. Dad turns around, a look of surprise on his face.
I hadn't recognized it before, but now that Dad says it, I do know where I am.[/dropshadowbox]
Thanks for stopping by today! Happy Tuesday 🙂 What's your teaser today? Please share – it's not as if a few more books on my TBR mountain will make that big of a difference 😉