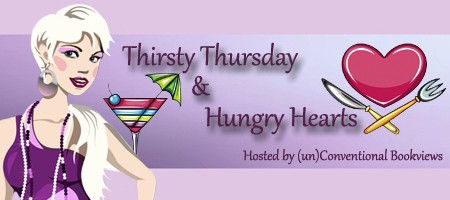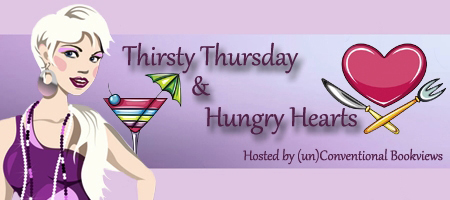 Thirsty Thursday and Hungry Hearts
Welcome to Thirsty Thursday and Hungry Hearts, an original weekly meme hosted here at (un)Conventional Bookviews. So many of the books I read have food or drinks in them, some I'd love to try, and others I'd never ever want to taste… and I thought it could be interesting and fun to share some food and / or drink quotes…  If you want to participate, you can grab my logo if you'd like, or you can make your own, but please link back to me in your own post.
The idea of Thirsty Thursday and Hungry Hearts is to share a quote with food or drinks that showed up in a recent read, as well as if it's something you think you'd like or not. Please share the title of the book it happened in, as well as the character who ate or drank the special little something you discovered between the pages of a good read. Please link up beneath, and visit other bloggers who are participating in Thirsty Thursday and Hungry Hearts as well.
In Mr. Mysterious by JA Huss, Pax has gotten a girly drink obsession thanks to Cinderella 'Cindy' Shrikes, and it is quite hilarious. And definitely too good not to share here!
"Crushed Ice," Pax says as if that explains everything. "You want a margarita?" He asks us. "Or a mint julep?"
"Since when do you drink that kind of shit?" I ask, pushing him away from the counter and grabbing the soup can from his hand. "You;re gonna crack my fucking granite, asshole. Stop pounding." I look over at five, confused. "Can people get drunk off mint juleps?" It's such a ridiculous drink, right" The only people who drink these things are old ladies on Derby Day.
"Exhibit A," Five says, motioning to Pax. Who has left the kitchen and is rummaging around at the bar in the adjoining room.
He finds what he's looking for – a bottle of bourbon and a bottle of tequila – and returns to the kitchen, pulling mint leaves out of his pockets.
"Cindy," Pax says, rubbing a hand through his wild dark hair. "Cinderella likes these two drinks. They're our drinks."
Our drinks? I mouth the words to Five, who stands up straight and takes his coat off, draping it over a bear stool at the kitchen island.


Thanks for stopping by today, I look forward to reading your Thirsty Thursday and Hungry Hearts quote. Have a terrific Thursday and don't forget to link up.