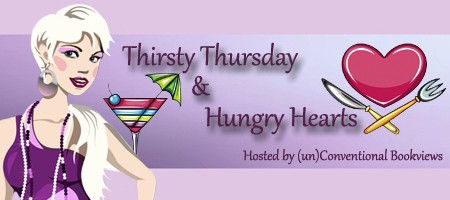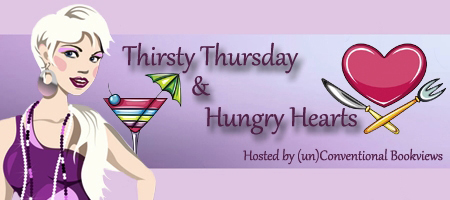 Thirsty Thursday and Hungry Hearts #129
Welcome to Thirsty Thursday and Hungry Hearts, an original weekly meme hosted here at (un)Conventional Bookviews. So many of the books I read have food or drinks in them, some I'd love to try, and others I'd never ever want to taste… and I thought it could be interesting and fun to share some food and / or drink quotes…  If you want to participate, you can grab my logo if you'd like, or you can make your own, but please link back to me in your own post.
The idea of Thirsty Thursday and Hungry Hearts is to share a quote with food or drinks that showed up in a recent read, as well as if it's something you think you'd like or not. Please share the title of the book it happened in, as well as the character who ate or drank the special little something you discovered between the pages of a good read. Please link up beneath, and visit other bloggers who are participating in Thirsty Thursday and Hungry Hearts as well.
This week's Thirsty Thursday quote is taken from Romancing the Rogue by Erica Ridley. It shows quite a bit of Daniel's personality, and I definitely enjoyed it!
My Thirsty Thursday quote:
There was too much good wine, too much music, too much food, too much mirth. Every room and corridor overflowed with friends and revelry. It was, without a doubt, the most successful birthay celebration he'd had in the nine years since he had inherited the vicountcy. His townhouse was so full of guests, he didn't even recognize all of them. They all wished him well, of course. At every break in the music someone would raise their class in a toast to Daniel, and the subsequent moments would be a whirl of champagne and claps on the back and tipys kisses behind the cover of a painted fan.
Thanks for stopping by today, I look forward to reading your Thirsty Thursday and Hungry Hearts quote. Have a terrific Thursday and don't forget to link up.