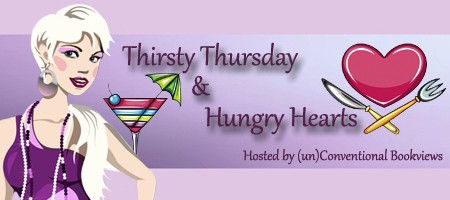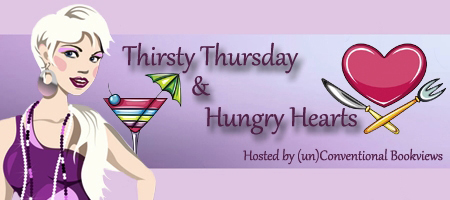 Thirsty Thursday and Hungry Hearts #112
Welcome to Thirsty Thursday and Hungry Hearts, an original weekly meme hosted here at (un)Conventional Bookviews. So many of the books I read have food or drinks in them, some I'd love to try, and others I'd never ever want to taste… and I thought it could be interesting and fun to share some food and / or drink quotes…  If you want to participate, you can grab my logo if you'd like, or you can make your own, but please link back to me in your own post.
The idea of Thirsty Thursday and Hungry Hearts is to share a quote with food or drinks that showed up in a recent read, as well as if it's something you think you'd like or not. Please share the title of the book it happened in, as well as the character who ate or drank the special little something you discovered between the pages of a good read. Please link up beneath, and visit other bloggers who are participating in Thirsty Thursday and Hungry Hearts as well.
This week's Thirsty Thursday quote is from The Play by Karina Halle. This books was such a good surprise, as I wasn't sure I'd like it all that much. I didn't like Kayla, the heroine, in the other books, so I was a bit nervous going in. I shouldn't have been, though, as I fell headfirst in love with both Kayla and Lachlan. In the following scene, they are at a music festival, and they don't know each other very well yet…
My Thirsty Thursday quote:
Time flies by and the festival grows to epic proportions. During Sam Smith I'm feeling buzzed from another glass of wine and I find myself swaying back and forth against Lachlan's soulders to the music. He's so damn solid and he doesn't shy away. It's dark out when Sir Elton John comes on, opening with "Benny and the Jets." The crowd goes nuts. I go nuts. It's impossible not to sing along to every single song, and it's like every person around us is singing along too, hugging each other, drunk, and happy and united by Elton. It's probably the wine bolstering my courage, but when "Your Song" comes on, I lean into Lachlan an dput my head on his shoulder. He tenses for a moment and I hear him suck in his breath. I pray he doesn't move, doesn't shrug me off.
Thirsty Thursday link-up:
Thanks for stopping by today, I look forward to reading your Thirsty Thursday and Hungry Hearts quote. Have a terrific Thursday and don't forget to link up.