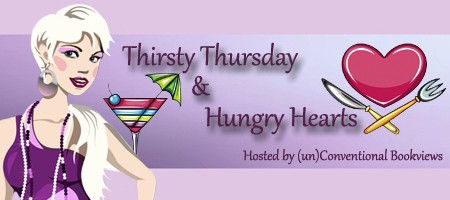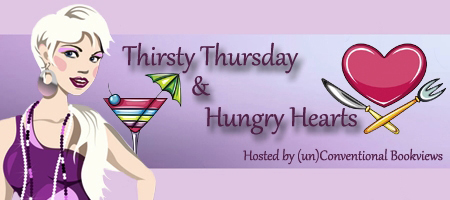 Thirsty Thursday and Hungry Hearts #45
Welcome to Thirsty Thursday and Hungry Hearts, an original weekly meme hosted here at (un)Conventional Bookviews. So many of the books I read have food or drinks in them, some I'd love to try, and others I'd never ever want to taste… and I thought it could be interesting and fun to share some food and / or drink quotes…  If you want to participate, you can grab my logo if you'd like, or you can make your own, but please link back to me in your own post.
The idea of Thirsty Thursday and Hungry Hearts is to share a quote with food or drinks that showed up in a recent read, as well as if it's something you think you'd like or not. Please share the title of the book it happened in, as well as the character who ate or drank the special little something you discovered between the pages of a good read. Please link up beneath, and visit other bloggers who are participating in Thirsty Thursday and Hungry Hearts as well.
This hungry hearts quote from Controlled Burn by Shannon Stacey made me laugh so hard! Because, well, it's pretty self-explanatory 🙂
My Hungry Hearts quote:
By the time he made his way upstairs, he could smell the big pot of chili that had been simmering for most of the day. There were some drawbacks to feeding a building full of guys chili, of course, but Chris Eriksson's recipe was too good to resist. And anything that simmered, slow-cooked or could be shut off and reheated made for a good meal because the dispatchers couldn't say, "Hey sorry, but they're eating so it'll be an hour or so."


Thanks for stopping by today, I look forward to reading your Thirsty Thursday and Hungry Hearts quote. Have a terrific Thursday and don't forget to link up.