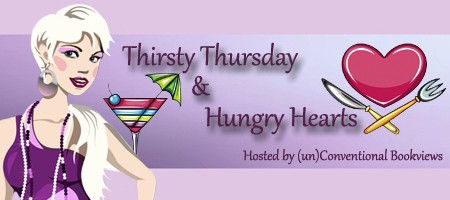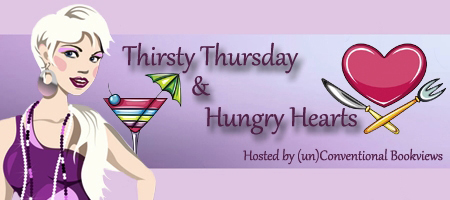 Thirsty Thursday and Hungry Hearts #43
Welcome to Thirsty Thursday and Hungry Hearts, an original weekly meme hosted here at (un)Conventional Bookviews. So many of the books I read have food or drinks in them, some I'd love to try, and others I'd never ever want to taste… and I thought it could be interesting and fun to share some food and / or drink quotes…  If you want to participate, you can grab my logo if you'd like, or you can make your own, but please link back to me in your own post.
The idea of Thirsty Thursday and Hungry Hearts is to share a quote with food or drinks that showed up in a recent read, as well as if it's something you think you'd like or not. Please share the title of the book it happened in, as well as the character who ate or drank the special little something you discovered between the pages of a good read. Please link up beneath, and visit other bloggers who are participating in Thirsty Thursday and Hungry Hearts as well.
As I have continued on my Rock Chick binge, I have kept highlighting a lot of excellent food quotes, and that is also the case today. Rock Chick Revolution is Ally's story, and it's the last in the series, too. So romantic and well done, and who can resist a man who cooks?
My Hungry Hearts quote:
"You want me to make you breakfast?" he asked.
Jeez. Seriously? This guy could also cook? I tested the waters.
"Are we talking instant oatmeal or eggs benedict?"
That got another lip quirk before he answered, "I was thinking croissants, eggs whatever way you want 'em, fresh strawberries, bacon and tater tots."
Did he say tater tots? For breakfast?
"Did you say tater tots?" I asked in order to confirm.
"Baby." His hips pressed into mine. I bit my lip at how good that felt and his face dipped close. "Tater tots rock breakfast."
Ren Zano ate tater tots for breakfast, and served the up to his fuck buddies. He was a dream.


Thanks for stopping by today, I look forward to reading your Thirsty Thursday and Hungry Hearts quote. Have a terrific Thursday and don't forget to link up.