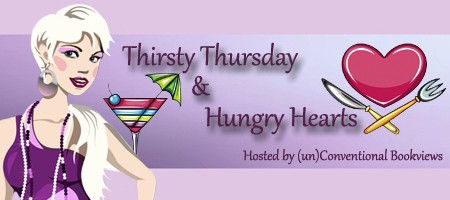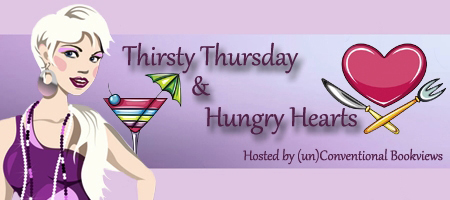 Thirsty Thursday and Hungry Hearts #30
Welcome to Thirsty Thursday and Hungry Hearts, an original weekly meme hosted here at (un)Conventional Bookviews. So many of the books I read have food or drinks in them, some I'd love to try, and others I'd never ever want to taste… and I thought it could be interesting and fun to share some food and / or drink quotes…  If you want to participate, you can grab my logo if you'd like, or you can make your own, but please link back to me in your own post.
The idea of Thirsty Thursday and Hungry Hearts is to share a quote with food or drinks that showed up in a recent read, as well as if it's something you think you'd like or not. Please share the title of the book it happened in, as well as the character who ate or drank the special little something you discovered between the pages of a good read. Please link up beneath, and visit other bloggers who are participating in Thirsty Thursday and Hungry Hearts as well.
This week, I'm sharing a yummy food quote from Jennifer Rardin's Once Bitten, Twice Shy, which I finally read last week. I loved the urban fantasy feel in this novel, and the paranormal elements were quite original, even if there were vampires involved.
My Hungry Hearts Quote:
Number one plate held three small pancakes, a slab of butter, and a minipitcher of syrup. A mushroom omelet spread itself across plate number two, and plate number three held four slices of extra-crispy bacon. Vayl had also ordered coffee and a big glass of orange juice. I saluted his closed door with my mug and said, "To you, Boss. May you never realize how much I truly like you."
Doesn't that sound amazing? I wish I could get several plates of breakfast just mysteriously appear at the table every morning 🙂 Mouth-watering is the only word that comes to mind.
Thanks for stopping by today, have a terrific Thursday! Don't forget to link up 🙂