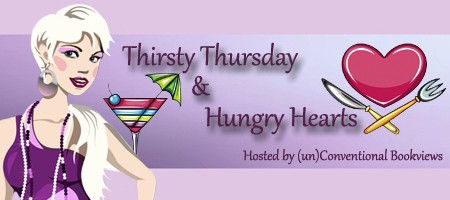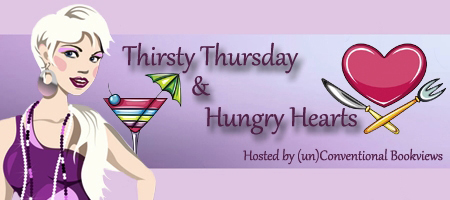 Thirsty Thursday and Hungry Hearts #27
Welcome to Thirsty Thursday and Hungry Hearts, an original weekly meme hosted here at (un)Conventional Bookviews. So many of the books I read have food or drinks in them, some I'd love to try, and others I'd never ever want to taste… and I thought it could be interesting and fun to share some food and / or drink quotes…  If you want to participate, you can grab my logo if you'd like, or you can make your own, but please link back to me in your own post.
The idea of Thirsty Thursday and Hungry Hearts is to share a quote with food or drinks that showed up in a recent read, as well as if it's something you think you'd like or not. Please share the title of the book it happened in, as well as the character who ate or drank the special little something you discovered between the pages of a good read. Please link up beneath, and visit other bloggers who are participating in Thirsty Thursday and Hungry Hearts as well.
This week, I'm sharing another Thirsty Thursday and Hungry Hearts quote from Forever Grace (Ever After #2) by Linda Poitevin. Sean is trying to teach Grace to cook, just so she can make sure the kids stay fed, safe and will continue to grow 😉 I thought it was quite funny that Sean helped Grace out in the kitchen this way, and he was a really good cook as well. There may be more food-quotes form this novel, as there were so many good ones to choose from. My review is up today, too, if you want to check it out.
My Hungry Hearts quote:
Sean stepped back and motioned for her to take his place at the open fridge. "You'll need both the cream cheese and the cheddar. Oh, and get the broccolli, too. We'll add some of that."
She wrinkled her nose. "To mac and cheese?"
Sean's hard, heated pecs leaned in again. He waggled his eyebrows. "Trust me."
The warmth in Grace's belly climbed up to scorch her cheeks. She covered her discomfiture by taking out the ingredients he'd requested and setting them on the counter by the stove. Sean retreated a couple of steps to lean against the peninsula, and form there, he started issuing orders.
"First, a pot of water. Bigger than that. You need lots of water for cooking pasta or else it clumps together."
"Do you have some kind of broth? Bouillon cubes are fine. You'll need to dissolve one in boiling water."
"Grate your cheddar while you're waiting for the water to boil."
"Add your macaroni to the water and turn the heat down so it doesn't boil over. Now set your timer so you don't overcook it."
Thanks for stopping by today! Don't forget to link up. Have a terrific Thursday and happy reading, eating and drinking 😉