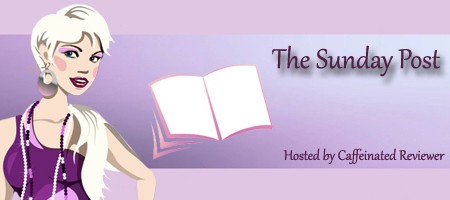 The Sunday Post #56 – Weekly Wrap-up
Welcome to my Sunday Post. Thank you to Kimba over at The Caffeinated Reviewer, who is hosting this weekly event. It is the perfect opportunity to share what happened here on my own blog, as well as some of the happenings elsewhere in the Blogosphere.
This week has been a complete switch, it's as if the weather waited for us to change the time to start becoming more fall-like! It's been colder, wetter and the trees both changed colors and promptly started losing leaves. When it's not raining, it's gorgeous and crisp, but when it starts pouring, I just want to stay inside with my books. Alas, I have also had a few hours here and there substitute-teaching, and I'm happy it's the weekend! Next week we have what uni calls our 'reading'-week, I prefer to call it my writing-week, as I will work on some essays I have to hand in.
This week's posts:
This week's reviews:
Elsewhere in the Blogosphere:
Aila @ Happy Indulgence has a great post : Spreading the Wings of Diversity in YA
Brandee @ Bookworm Brandee has a Beyond the Books post on Inspiration.
Blog Ahead 2015
During the month of October, I have participated in the blog ahead challenge, hosted by Kimberly @ Caffeinated Book Reviewer and Anna @ Herding Cats & Burning Soup. This challenge is to schedule as many posts as possible for the months coming after the month of October. I had planned on scheduling 20 posts ahead during the challenge, but I hit that right out of the ballpark! I have 54 posts scheduled and all ready to go for November and December, as well as some reviews for January, and even a few meme posts going all the way up to March next year, and I have to say I'm really happy with all the blogging I've been able to prepare in advance! I have several reviews, as well as quite a few meme posts, and it's so nice to know I have a buffer for later in the year, and a few posts for next year as well. It's so nice when my editorial calendar looks like this:
What have you been up to this past week? Don't forget to leave me a link so I can come visit your Sunday Post as well.
Thanks for stopping by, I hope you've enjoyed your weekend, and that next week will be filled with awesome!