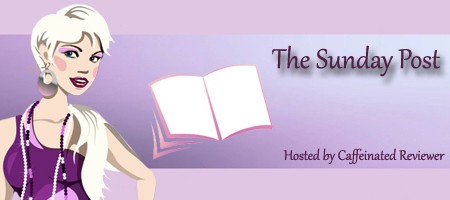 The Sunday Post #46 – Weekly Wrap-up
Welcome to my Sunday Post. Thank you to Kimba over at The Caffeinated Reviewer, who is hosting this weekly event. It is the perfect opportunity to share what happened here on my own blog, as well as some of the happenings elsewhere in the Blogosphere.
This week has been a little hectic, getting the last of the supplies we need for the kids who are going back to school tomorrow, and me getting ready for my two-week substitute stint. I made so many photocopies on Friday it's not even funny! I had to make some even of the course-books so that we can start working immediately, even before the students have the time to go purchase their books. I also picked up Roald Dahl's BOY: Tales of Childhood, which two of the classes I'll be teaching are going to read, and Stephen King's The Body, which seems to have been written for people who are learning English. We also had a b-day party for a friend, and tried the best we could to get into the correct rhythm of sleep so everybody will be able to get up early tomorrow.
This week's posts:
This week's reviews:
Elsewhere in the Blogosphere:
Grace @ Rebel Mommy Book Blog asks What Makes You Cry?
Lola @ Lola's Reviews shares how she Shelves her Books, and she shares lots of beautiful book pictures, too!
Jeann @ Happy Indulgence has a great vlog about Diversity in Books, you should definitely check it out 🙂
Cait @ Paper Fury also has a wonderful post I Want Diverse Books that are Not About Being Diverse.
What have you been up to this past week? Don't forget to leave me a link so I can come visit your Sunday Post as well.
Thanks for stopping by, I hope you've enjoyed your weekend, and that next week will be filled with awesome!