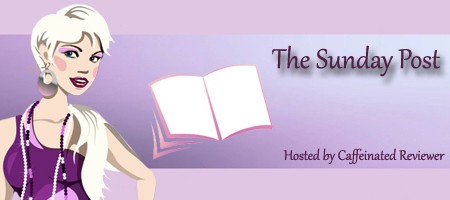 The Sunday Post #34 – Weekly Wrap-up
Welcome to my Sunday Post. Thank you to Kimba over at The Caffeinated Reviewer, who is hosting this weekly event. It is the perfect opportunity to share what happened here on my own blog, as well as some of the happenings elsewhere in the Blogosphere.
Since I wasn't teaching this week, I had time to catch up with some friends both for lunch and dinner, and it was really nice to see some people I haven't seen in a while. Also, on Tuesday, it was my 20th anniversary since marrying my husband so we went out on a date 🙂 My blogoversary has come and go without me really realizing it… I think I'll do a giveaway in July, when I have even more time to do my own stuff 🙂
Our garden is in bloom, which is awesome! We've had some really nice, warm and sunny days, as well as some rainy evenings so plants and flowers are growing like crazy.
On Friday, my students had their English exam, so now it's time for me to get the grading done… it's not all that fun, but hopefully, they'll all have done well!
This week's posts:
This week's reviews:
Elsewhere in the Blogosphere:
Faye @ The Social Potato has a great review by Bubbles 🙂 Say it with Bubbles: Vampire Academy
Jessica @ Rabid Reads asks an impossible question What's Your Favorite Supernatural Creature?
Brandee @ Bookworm Brandee is on vacation, and just so we won't forget about her she's hosting a Brandee's Away on Vacay #Giveaway.
What have you been up to this past week? Don't forget to leave me a link so I can come visit your Sunday Post as well.
Thanks for stopping by, I hope you've enjoyed your weekend, and that next week will be filled with awesome!