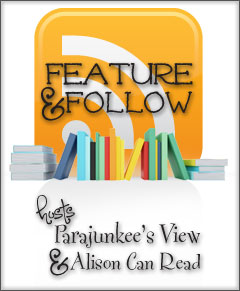 YAY it's Friday again, and we are all free to poke into each others' reading habits, get to know each other better and gain new followers!
As usual, the Feature and Follow Friday is hosted by
Parajunkee and Alison, this week's featured bloggers are Reading Between Classes  and Read it, Read it, Loved it!.
This week's question is :
Do your reading habits change based on your mood? Do you read a certain genre if you are feeling depressed or happy?
Luckily, I am very rarely depressed, but if I am feeling a little down, I love to read about Cat and Bones 😀 they always make me laugh, and I love their relationship. They go through problems together, and there are no loathsome love triangles to make things iffy (for me). So the Night Huntress series by Jeaniene Frost is a winner for me.  
When I'm already happy, I can read anything – and then I love to go through fellow bloggers or Goodreads friends' 'currently reading' or 'excited about' shelves to find ideas. Also, my own TBR is bloated, so it's not as if I am ever at a loss for books.
Now, please let me know if you're a new follower, so I can make sure I can follow you back. It might take until after the weekend before I'll be able to be online again, I'm off for a weekend in the mountains.
Have a fabulous Friday and a wonderful weekend!